In Memory of HHHs Anticipation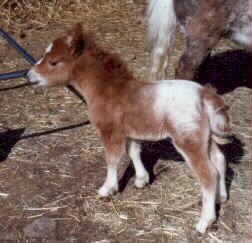 April 20, 1996, we were thrilled with the birth of an 18.5" loud appy filly who had kept us waiting until a day or so after she was due, something that just doesn't happen at Hilliard Horses-to-Hug where most of our babies are born early and sometimes.......... quite a bit early! Thus, as I waited and waited......... the name Anticipation came to me, and I decided it fit her perfectly when she finally made her entrance! She was all I had anticipated and more!
At two weeks old she gave us a scare and suddenly caught pneumonia and had it REALLY bad. My vet pulled her through and gave me shots to keep giving her, and it was almost miraculous to me how fast she improved from being so very sick.
We took to calling her Annie for short.
Right away she was friendly and loving and would follow at my heels trying to jump up on me as she followed me along.
Here are some early pictures.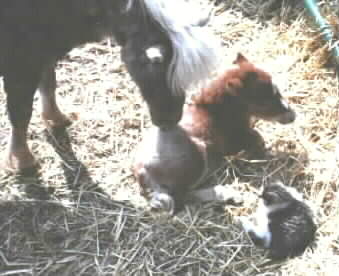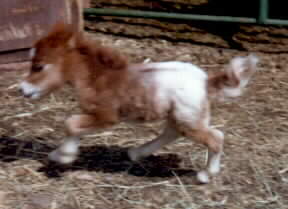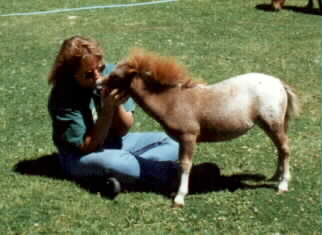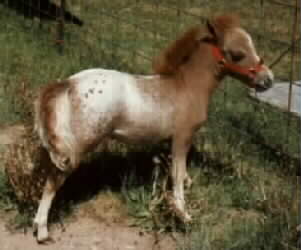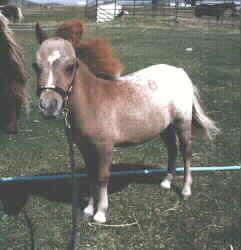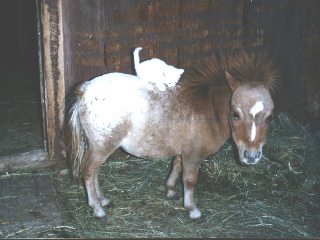 Annie was always willing to do whatever we asked of her. She was so friendly and unafraid of anyone, taking after her grandsire our Tiny Acres Rambo.
For a short while I had her shown by a friend who was also a trainer. She did not do too well in the shows, but then the tiny ones usually don't. And she was VERY tiny! But in my experience the tiny ones are the ones the spectators fall in love with, and she was no exception.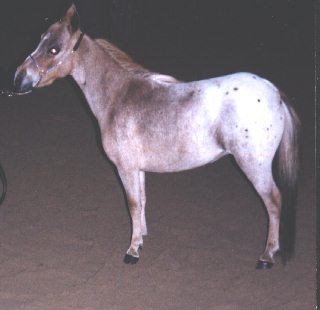 Anticipation 26.75" tall
Later that summer when she came home from showing, another friend needed a little horse for her grandaughter to take to our county fair and Annie was the perfect choice. She had her jumping and doing obstacles and also in the costume class where she was "My Little Pony Angel".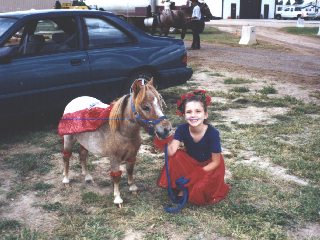 Annie and Devon Roe
One year when our local nursing home called like they do from time to time we decided to take Annie for a visit and she was a natural! She was in her element with all the attention, and not minding all the petting in the world!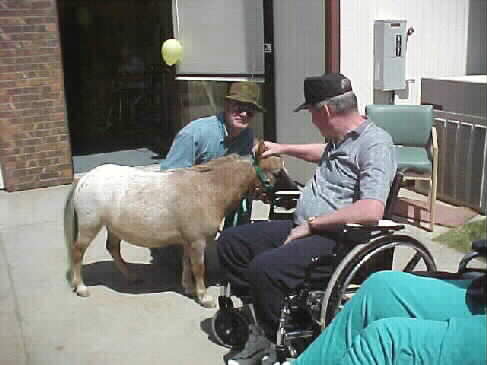 We used to drive horses in our annual Cowboy Days parade. And the crowds would always tease us about "making those poor little horses pull us". So one year Harry decided to turn the tables and pull the horse for the crowd. He built sides on a snowmobile trailer and a yoke to put on his shoulders, and guess who got to be the one to ride in it! :)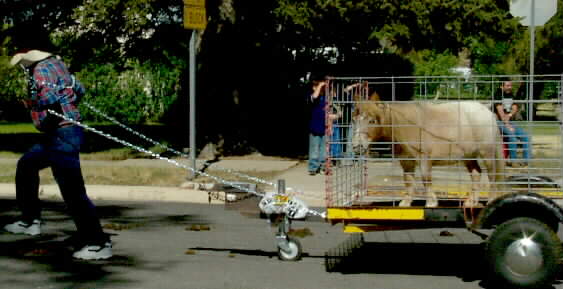 She was not too happy about it, but of course, being Annie, she went along with the plan!
Another thing Annie did, although I don't have pictures of it, was she made a good "roommate" for horses that need one....... like babies that are being weaned.
This year 2002, she was 6 years old and I finally bred her to our tiny appy stallion, Cream of the Crop, pictured here. He is actually her half brother, a Spicy son. But I had visions of a wonderful tiny appy baby.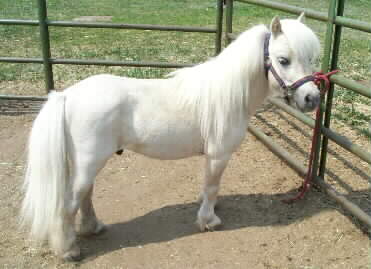 And then she suddenly colicked............why....... we will never know for sure. And we lost her September 9, 2002.
She WAS carrying a tiny perfect looking stud colt. We can only imagine how beautiful he would have been.
But Annie lives on in our hearts and the hearts of others whose lives she touched.
And I like to remember her running with her tiny tail in the air......... full of the joy of living!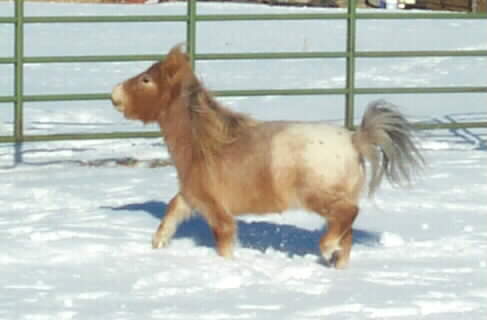 Annie,
We miss you, and you will never be forgotten!