Sale page updated September 11, 2017
Miniature Horses for sale from
Hilliard Horses-to-Hug
Sale Horses are subject to additions, deletions, and price changes without notice.
Also please be aware that we at HHH will furnish coggins test, health certificate and brand inspection on all of our horses that sell for over $1000, and the buyer will be responsible for them on all horses that sell for $1000 and less. The cost for a health and coggins is currently $61.
All our pregnant mares are vaccinated with a 3 way (flu, encephalitis, tetanus) around 30 days before their foals are expected to arrive. It is now known that foals retain their mom's immunity until they are close to a year old. If you buy an HHH horse and wish to have it vaccinated for Rhino or WNV or anything else, we will get it done at the buyer's expense. After reading and discussing this, we feel it is possible to way "over-vaccinate", and it is good to let horses build up their immunity by only giving definitely needed vaccinations.
This is an "In Search of" ad :)
I have a good friend in Eastern Oklahoma (Tahlequah) who is looking for a Well Trained driving miniature horse WITH cart (basic easy entry) and harness. She wants the whole package together. The horse does not have to be registered and she is willing to look at B size (34" to 38") as well as A size (under 34"). She prefers a gelding but would consider a well trained mare as well. She is not looking to show at all, but just drive around her own beautiful property. She is willing to drive a fair distance for the right horse and cart. I can vouch for her honesty. She has bought several horses from me over the years in the past. If anyone has what she is looking for, her name is Connie and you can contact her at widgethaswings@gmail.com or call her at 916-506-9947.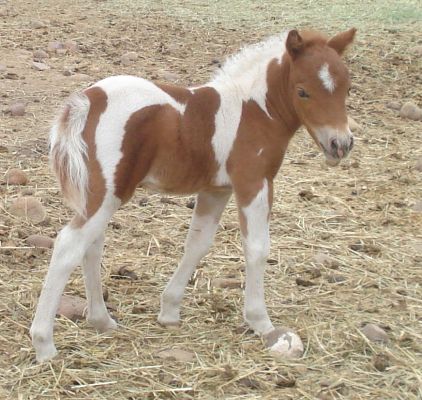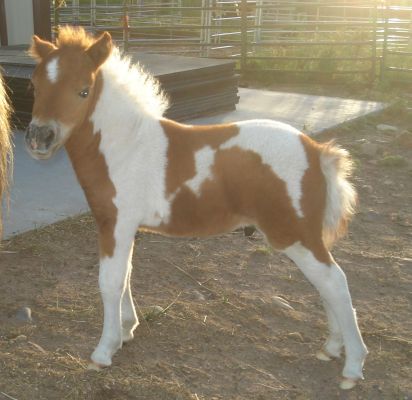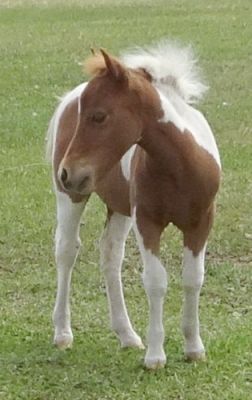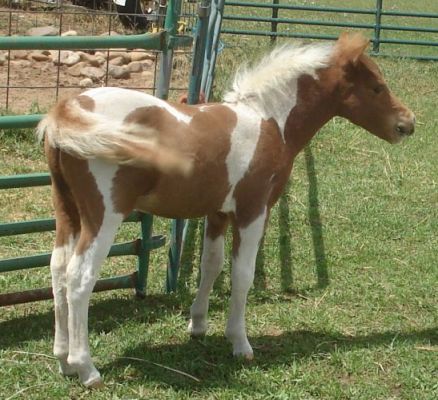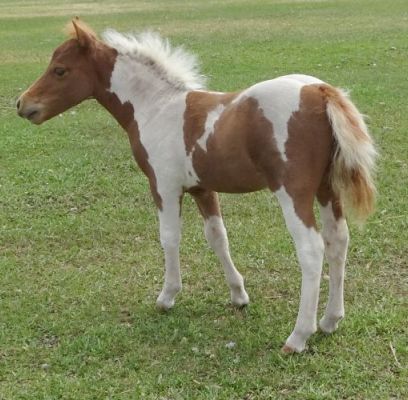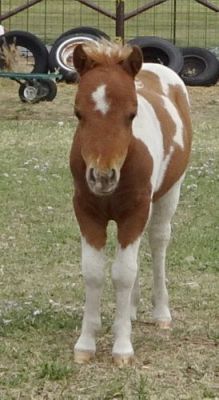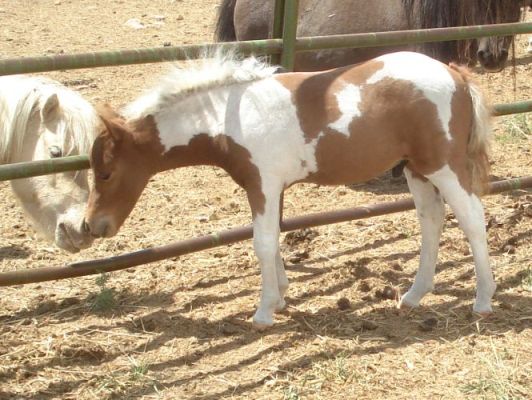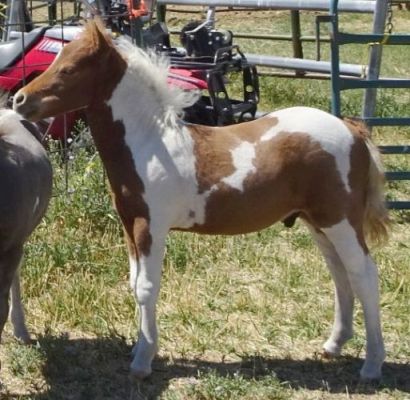 HHH Rambos Memorial KnickKnack
(more pics on the foal page)
Sire is Kiltys Knickers of Bar Bar E ....31.75"
Dam is HHH Rambos Farewell Party....31.75"
This little chestnut pinto colt is correct and so friendly!
He will be AMHA and AMHR.
He was about 18.5" at birth with a 6.75" cannon measurement and was 24 lbs.
My best guess is he will probably mature around 31" to 32" or so and would make a nice show prospect , herd sire prospect, 4-H horse or a lovable pet.
Also, he is N/N for the ACAN dwarf gene.
SOLD!!
Email us at Horsehug@NGLConnection.net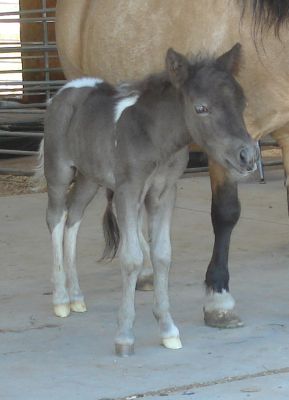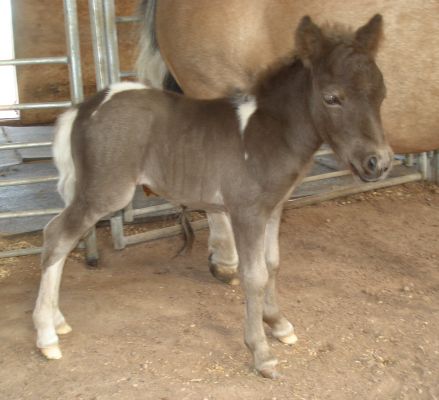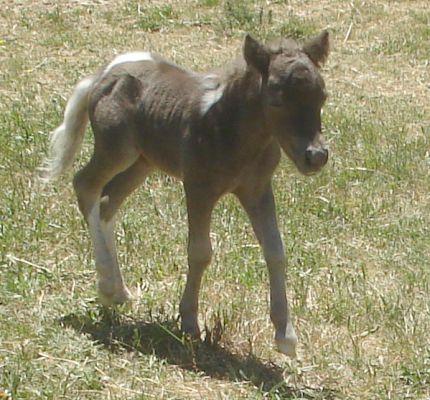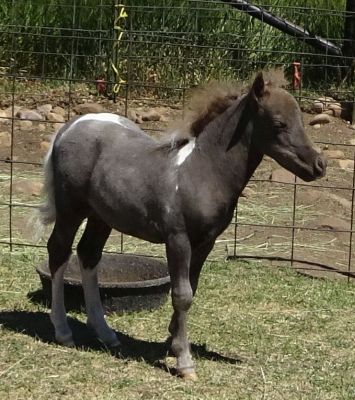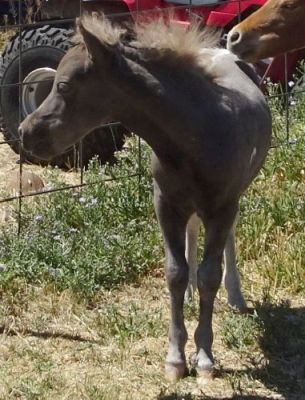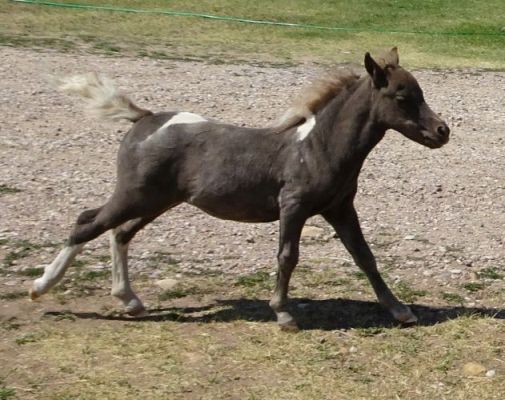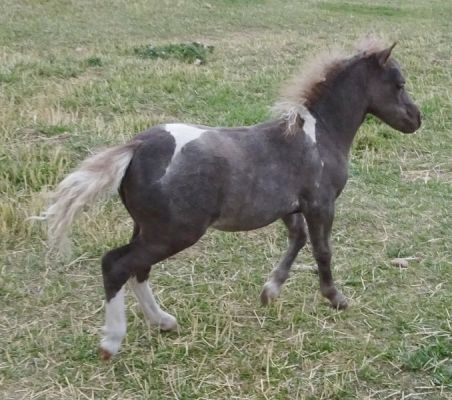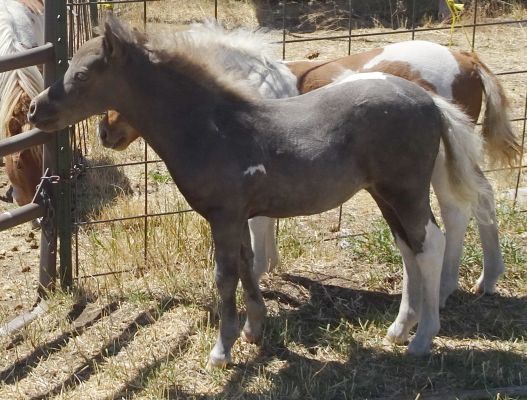 HHH Knickers Little Figurine
(more pics on foal page)
AMHR
This adorable filly born on June 17, 2017, is silver black pinto, also sometimes called silver dapple.
Sire : Kiltys Knickers of Bar Bar E ....31.75"
Dam: Callie of Bar Bar E......35.25"
Figurine was 21" with a cannon measurement of 7" and will probably mature around 32" or so and be eligible for hardship into AMHA. She is correct and should make a really nice show filly, or broodmare, or a lovable pet. :)
She is also N/N for the ACAN dwarf gene.
SOLD!!!
Email us at horsehug@NGLConnection.net