HORSE ARTISTS
Kay Rossiter is a friend and also an artist who loves painting horses and has done two wonderful paintings for us.
The first is of our appaloosa stallion Double BB Hot N Spicy. Here he is with her portrait next to his photo.
Second is her photo of our mare Magnolia Farms Robin and her filly HHHs Little Rosebud.
If you would like to contact Kay , her email is mkross98@yahoo.com
We also have another artist, Leann Stewart, working on some of our photos, and will post them as soon as they are available, as well as her contact information!!
Here is the first one! She has already won awards for this tiny miniature painting! Leann is excited to be doing Miniature art of Miniature horses!! This one is the only colored print of her original at this time, and she plans to enter it into the International Miniature Society in January of 2001. I also add that it has all rights reserved and cannot be printed without permission by artist and is copyrighted to Leann.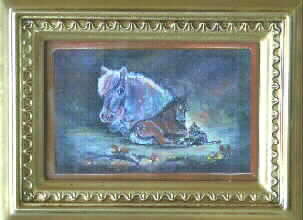 She is always interested in cute photos to paint from and her email is LEANNART@prodigy.net